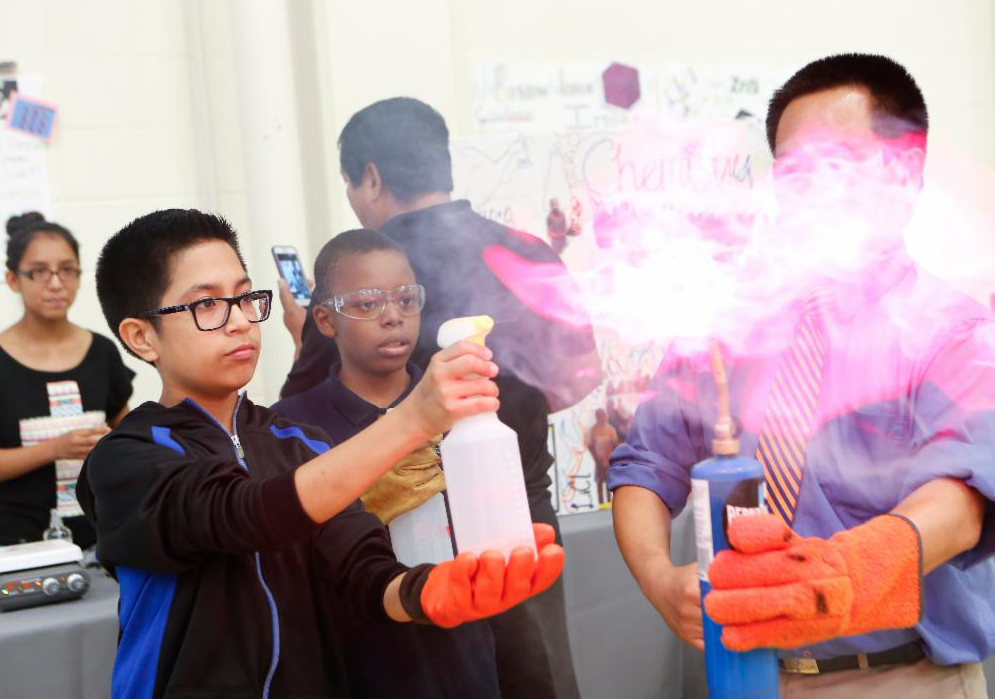 Moving Up! and on to New Things
Moving Up is the culmination of two years of hard work for students ready to embark on their high school journey.
2-Year Tuition-Free Academic Enrichment
Tuition-free Academic enrichment
High Jump is a two-year program that equalizes access to education for rising seventh graders in Chicago.
Grant Funding Helps us Grow
Grant Funding Helps Us Grow
Grants provide long-term financial sustainability and promote continued growth and development within our organization.
Support Students
It is now more important than ever to build equitable learning opportunities for Chicago's middle school students.
When High Jump Students Graduate
College Prep H.S. acceptance
When High Jump students graduate they go on to attend rigorous college prep high schools in Chicago and across the country.
Gift of High Jump
Give the Gift of High Jump
Give the gift that gives back!
Since 1989,
Lasting Impact Since 1989
High Jump has been providing students with academic enrichment, social-emotional learning skills and high school application support.
Tour High Jump Classes
See what students learn at High Jump through our virtual tour.
Apply to High Jump
High Jump invests in the next generation of leaders, giving them the opportunities, resources and connections they need to achieve what they want. Think you have what it takes? We know you do.
High Jump equalizes access to education for Chicago middle school students who have exhibited academic ambition and potential and who are of limited economic means.
We provide tuition-free academic enrichment, counseling and support to students of diverse backgrounds, with the goals of sending our participants to superior college preparatory schools, ensuring their success while they are there, and enhancing their ability to gain admission to highly regarded four-year colleges and universities.
High Jump provides a unique experience for students to reach their academic potential.
Year-Round Academic Enrichment

This FREE program consists of six weeks of intensive daily instruction in the summer and two Saturdays each month during the school year.

High School Choice Support

During eighth grade, High Jump provides support to students and their families for high school admissions, financial aid and scholarships.

Field Trips and Outdoor Retreat

Student field trips include visits to The Art Institute, Chicago History Museum, Chicago Shakespeare Theatre and The Steppenwolf Theatre and more, as well as an outdoor overnight retreat to the Lorado Taft Camp (a student favorite!).

Meals Provided

For each day of programming, students receive free nutritious meals for breakfast and lunch.

Dedicated Faculty

High Jump teachers are professional educators who teach in a variety of public and private schools and colleges throughout Chicago. They take a hands-on, interactive, exploratory, and project based approach to teaching.

Free High School Admissions Exams

As part of the high school choice support, eighth grade students have the opportunity to take the Boarding School Secondary School Admission Test (SSAT) and Independent School Entrance Exam (ISEE) at no expense to the student's family.
In 2019, High Jump students and alumni accomplished the following:
0

%

Matriculated to top college prep high schools
0

%

Matriculated to four-year colleges and universities
0

%

of High Jump students will be the first in their families to attend college
High Jump is the first step to success.
After High Jump, our students go on to attend top high schools and colleges in Chicago and across the country and graduate from college at a higher rate than their peers.
4-Year College Completion Rates
*within six years of high school completion
†within eight years of high school completion
High Jump alumni Cohorts 18-20*
All Americans 25 years or older
All low-income students nationally†
All academically strong low-income students nationally†
There are several ways to engage with our life-changing program.